Kaigal-ool Khovalyg
He is a national khoomeiji of Republic of Tuva. He is one of the most famous Tuvan throat singers in the world, the acknowledged master khoomey, particularly kargyraa style, and stunning performer of lyrical songs.
He was born in 1960 in one of the most "musical" places of Tuva – Dzun Khemchiksky co-operative farm "Iskra" in Bazhyn-Alaak. He worked as a shepherd up to 21 years old. He began his professional career in 1979 as part of the vocal-instrumental ensemble "Ayan", creative programs of which were prepared in Leningrad in those years. In 1989 he joined together with other throat singers – Congar-ool Ondar, Ivan Saryglar, Boris Herli, Vyacheslav Danmaa, Sergey Ondar and others the ensemble "Tuva", the first professional khoomeiji group, established jointly by musician Gennady Tumat and musicologist Zoya Kyrgys. Repertoire was comprised of rare recordings collected by scientists of Tuva Research Institute of Language, Literature and History during field trips and meetings with old khoomeiji.
In 1993 he left the ensemble "Tuva" to devote himself to creative work in the newly created quartet "Huun-Huur-Tu" with Sayan Bapa. Now they appear in the group with Alexey Saryglar and Radik Tyulyush. In 2010 Ulyana Mongush released a book to the 50th anniversary of the musician about his life "Willfully Khovalyg and 'Hun-Hurtu'" in two languages – Russian and Tuvan.
"He is a true folk singer. And each nation has the very few ones. Listening to them the elderly and children cry, women and young girls sigh, rulers recognize their power over them, and the strongest people feel shiver… We certainly do not live in epic times. But we, Tuvinians, are happy people that we have our own voice. Deeply lyrical, soulful, loving. Kaigal-ool Khovalyg is able to confess his love to his native Tuva, to fast horse, a golden steppe, to loved people and the song itself as nobody else."
Magazine "The New Research of Tuva"
"The oeuvre of Kaigal-ool Khovalyg is a mirror, which reflects the whole palette of colors, depth, richness and wisdom of traditional Tuvan music culture… He raises Tuvan music to heights of pervasive emotion where the boundaries between cultures disappear, where people begin to be aware of the unity of humanity."
Ethnomusicologist Valentina Suzukey
"Kaigal-ool Khovalyg is a unique musician. He has the ability to penetrate deeply into the heart. His style with sparkling, pulsating and harmonious sounds is like polar lights. Listening to music performed by Kaigal-ool, you feel devout flutter, the hero of tales Oskyus-ool, racing the ancient Tuva, arises before the eyes and the pain of losing the parents. Or you transfer to the past century, sit around the campfire in the wild steppe. I saw old Tuvinians on the verge of tears, when they listened to songs in traditional performance of Kaigal-ool."
Steve Sklar, "American khoomeiji"
Sayan Bapa
He is a son of Tuvan man and Russian woman, grew up in the industrial town Ak-Dovurak. He studied music in Kislovodsk, where he played bass guitar in the Russian jazz-rock band for several years. In the early 90s he returned to Tuva to musical roots, where he became a member of the folk- rock band, performing traditional Tuvan music on modern instruments. He is one of the founders of "Huun-Huur-Tu". Sayan Bapa is a versatile instrumentalist; he plays doshpuluur, igil and acoustic guitar. As a vocalist, he specializes in the style kargyraa.
Alexey Saryglar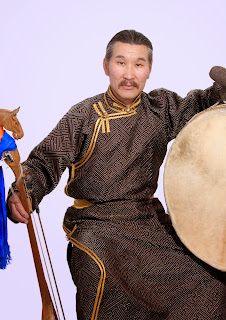 Alexey Saryglar came to the ensemble in 1995, replacing Alexander Bapa. He received his musical education of percussion class in Ulan-Ude and became a member of the national ensemble "Siberian Souvenir". He is an immensely talented musician, performing sygyt, expert on Tuvan percussion and stringed instruments, he also plays the piano. Like other members of the group he lives in Kyzyl.
Radik Tyulyush
Radik Tyulyush
learned throat singing and playing folk instruments from his grandfather. Every summer he went to his grandparents in far taiga site. Listening performance of throat singing by grandfather and uncle he learned the words and melodies of ancient Tuvan songs.
He is a graduate of Kyzyl School of Arts (Tuvan national instruments department) and East-Siberian State Academy of Culture and Arts. He plays from school in Tuvan rock band "Uer", which released four albums. In 1999-2000 he worked in the folk group "Tyva", then in the group "Yat- ha", during the work in which 2 CDs were released and an award "The BBC Radio 3 Award for World Music" was won.
In 2003 he also joined the orchestra in Tyva National Orchestra, where he was the director for some time. In 2005, in England, he released his first solo audio disc
"Tuva: Spirits of my Land"
together with Cambridge University ethnomusicologist Carole Pegg. In February 2013 it was released the second album entitled "Chalama", which means colored ribbons tied to the branches of a tree in a sacred place "ovaa" in Tuva. It contains his own compositions as well as traditional Tuvan songs, performed by Radik Tyulyush.
He is the youngest member of the "Huun-Huur-Tu". He is in the group since 2006.